Amica at Bearbrook Court where the vacation never ends
Welcome to Amica at Bearbrook, a charming retirement residence nestled in the suburban community of Blackburn Hamlet located in the east end of Ottawa.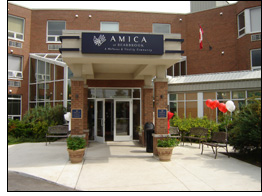 Warm and inviting, Amica at Bearbrook offers easy access to nearby expressways, public transportation and a wide variety of seniors' community activities. With shopping, medical services, churches, banks and the library close at hand, what could be more convenient!
When not venturing out there is so much to enjoy in your very own home. Offering a host of resort-inspired amenities, Amica at Bearbrook is the residence of choice for Ottawa's discerning mature adults.
Select the style of living that suits you best. Choose from spacious, private studios and one bedroom suites with bright living spaces, kitchenettes and private bathrooms. All this, plus the comfort of knowing that your all-inclusive monthly fee offers 5-star fine dining, weekly housekeeping, Lifeline© emergency call system and a host of other amenities, services and social activities.
From the moment you are greeted by Concierge, you feel the Amica difference. Catch a movie in the Chelsea Home Theatre or invite family and friends for a gathering or housewarming lunch in our Carleton Dining Lounge or Private Dining Room. Pamper yourself in the beauty salon or just enjoy relaxing with a good book on the sunny outdoor patio. The choices are as many or as few as you wish.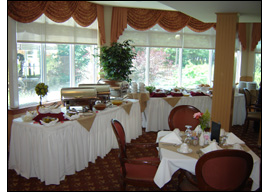 Similar to a cruise ship environment, you will enjoy breakfast, lunch and dinner served in elegant surroundings with your choice of dining times. Make fine dining an event each and every day. Themed dining for holiday and special occasions are welcome events for residents, their family and friends.
Amica's Principles of Wellness and Vitality™ break all the rules stereotypically held about fitness and retirement living. With equip.m.ent specifically designed for mature adults, strength training and fitness is a part of every day life in the Amica communities. Our Wellness Team is available to customize your exercise program and keep you on the path to health and well being.
With a full Nursing team available 24/7, we offer a wider range of health care services for Independent or Vitalis Assisted Living. Reasonable, all-inclusive monthly rents at Amica at Bearbrook start at $2,645. It's just like living in a resort hotel. Come in and experience what other discerning mature adults are enjoying every day. You Deserve It!
Lisa Leonard, Community Relations Manager, looks forward to welcoming you for a complimentary lunch and personal tour of all that Amica has to offer for luxurious retirement living. For more details or to make an appointment please call 613-837-8720 ext. 225.