(Updated 12 p.m., Feb. 6)
Orléans bard pens western-themed novel
By Fred Sherwin
Orléans Online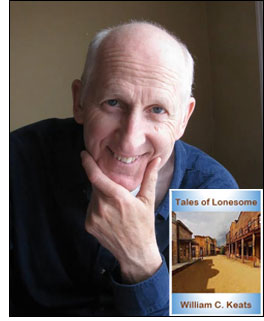 Orléans singer songwriter Bill Keats has published his first literary work entitled Tales of Lonesome. Photo supplied
William C. Keats, or simply Bill Keats to his friends, is what some would call a literary late bloomer.
The former military man and native son of Bonavista Bay, Newfoundland, has already released a pair of CDs and has a third on one in the can.
In October, the 69-year-old Orléans balladeer put down his guitar long enough to write a western-themed book about a fictional town named Lonesome and some of its more colourful residents.
Tales of Lonesome is actually a collection of short stories all based in the same town, with each story involving a different character or characters. At only 195 pages, the book is a relatively easy read with each chapter able to stand on its own.
"I wanted to write something that you could pick up and read a couple of chapters, or just one chapter, and put it down," says Keats. "There are 12 different characters in the book and some of them cross paths in some of the chapters."
Keat's interest in the western genre can be traced back to his youth growing up in Newfoundland.
"When I was a kid I wanted to be a cowboy," says Keats. "I watched all the old westerns like The Rifleman and Bonanza. My favourite was Richard Boone who played Paladin in a show called Have Gun – Will Travel."
As he got older, Keats became a huge fan and ardent reader of western adventure novelist Zane Grey (1872-1939) and Grey's more modern day contemporary, Louis l'Amour who wrote 89 western-themed novels before he died in 1988.
Keats wrote Tales of Lonesome in just three months. He did it, he says, not to get rich or to get famous, but rather "just for the hell of it".
"It's really something to do in life to get over the hump, " says Keats. "I'd always thought about it, so I just did it."
"Tales of Lonesome" is available through Chapters Indigo at www.chapters.indigo.ca for just $15.08.
(This story was made possible thanks to the generous support of our local business partners.)
Visit www.orleansonline.ca's main page