One of the most difficult things for a parent during the current pandemic we find ourselves living under is trying to explain it to a young child. Orléans resident Loukia Zigoumis, had to do just that when her four-year-old niece asked her why they had to vacation at home.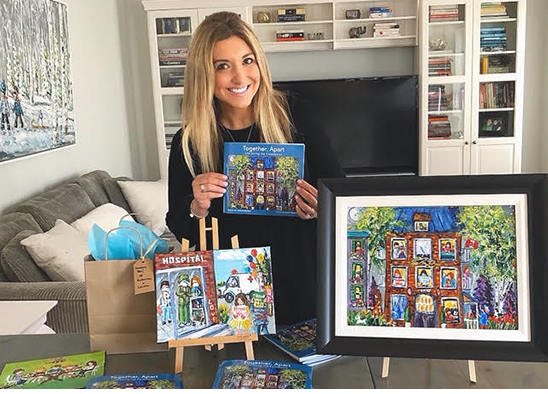 'I think her exact words were, 'Why do we have to holiday at home?'," recalls Loukia. "So I had this conversation with her over the phone about the reasons why we're all staying at home and not being able to see each other face-to-face and I thought what a great idea it would be to write something for children that will help them understand what we're going through, or what they are going through specifically."
The result is a book for children age 4 to 10 years old entitled "Together, Apart: Life During the Coronavirus".
When Loukia got the idea for the book, she immediately called her mother, Ottawa artist Katerina Mertikas, who is known for painting scenes that depict kids enjoying their childhood.
The collaboration is a beautiful book that is both infor-mative and educational. The pages alternate between a running dialogue and matching illustrations.
The book explains why it is so important to wash your hands for at least 20 seconds; the need to wear gloves and face masks; and why it's important to stay home and practice physical distancing to "flatten the curve" – all from the perspective of a child in as an uplifting and positive way as possible.
The book ends by talking about the positive aspects of the shutdown. Here's an excerpt: "Life was different but we were okay because we were together – eating dinner as a family, baking and enjoying more relaxed days. It wasn't easy, but every day we found something that brough us joy. Like talking to our grandparents on the phone. Like going for bike rides. Like baking cookies. Like finishing a book. Like laughing together.
"Scary times don't have to be so scary when we are all together, helping our city, our community and the world. It felt good that by staying home we were all helping each other – together, but apart.
"When things go back to the way they were, we'll remember this time and the good that came from it like playing, learning and loving one another – together, apart."
Sales of the book during the first week were so good they had to print a second order.
"The orders are coming in fast and furious and the feedback has been really great," says Loukia. "A lot of teachers have bought the book and read it to their students in their virtual classrooms and they've said it's really relatable. So it's been really nice to hear."
Proceeds from the sale of the book, which cost $14.95 each, will go to the Children's Hospital of Eastern Ontario and the Kid's Help Phone – two organizations that are playing a key role in children's physical and mental health during the pandemic.
"The Kid's Help Phone is there for children 24/7 and the work CHEO does every day to help children – we decided these two organizations, especially now, are the two we wanted to donate to."
You can purchase a copy of the book by e-mailing loukiazigoumis@gmail.com.
(This story was made possible thanks to the generous support of our local business partners.)