Cumberland United Soccer Club merges with Capital United under Ottawa TFC banner
By Fred Sherwin
February 22, 2019
The Cumberland United Soccer Club and the Capital United Soccer Club have merged to become Ottawa TFC in partnership with the Toronto FC Major League Soccer team.
Toronto FC will support Ottawa TFC as a regional satellite club, providing professional technical player and coaching development at the youth level.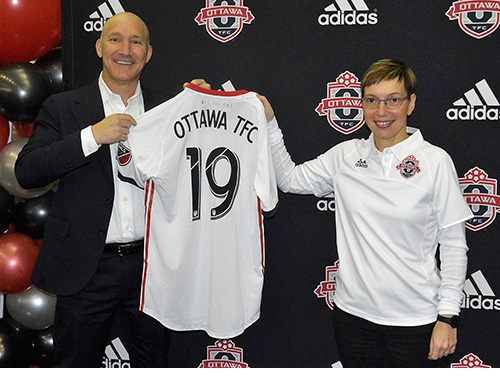 Toronto FC president Bill Manning and Ottawa TFC president Terry Vida hold up an Ottawa FC jersey following the launch of the new soccer club on Monday. The club is an amalgamation of the former Cumberland United Soccer Club and the Capital United Soccer Club. Fred Sherwin/Photo
Ottawa TFC joins Windsor TFC and London TFC as exclusive youth affiliate clubs of the Toronto club. Under the partnership, Toronto FC and Ottawa TFC will work in collaboration to enhance all technical programming, including coaching development, sports science, methodology, curriculum devel- opment and provide a direct pathway for the highest achieving athletes to join the professional player pathway at TFC Academy.
The partnership will include develop- ment programs for players, with TFC coaches making multiple trips per year to Ottawa to provide coaching instruction and technical training. Ottawa TFC coaches will also make a number of trips per year to Toronto FC's BMO Training Ground to observe and learn best practices from TFC's staff.
Former Cumberland United technical director and now Ottawa TFC general manager Pavel Cancura says the partnership gives area players a potential pathway to the MLS.
"It has become a very real pathway for them," says Cancura. "It gives boith the opportunity and the responsibility that we can look the kids in the eye even at the youngest ages and say if you work hard enough and if you do the right steps there's no barrier to keep you from actually fulfilling your dreams."
As for the impact the partnership will have on area soccer players, it will be minimal. The recreation program will see very little if any change. While the academy program will benefit from the combined resources of the former Cumberland and Capital United soccer clubs and Toronto FC, the players will have to go through the same tryout process for the competitive teams as in the past.
News of the merger comes on the heels of last week's announcement that plans for a future dome at Millennium Park has entered the Request for Proposal (RFP) stage.
The RFP is expected to attract several proposals from the private sector to build and operate the dome. Cumberland Ward Coun. Stephen Blais, who has spearheaded the project, says construction will likely take place in 2020.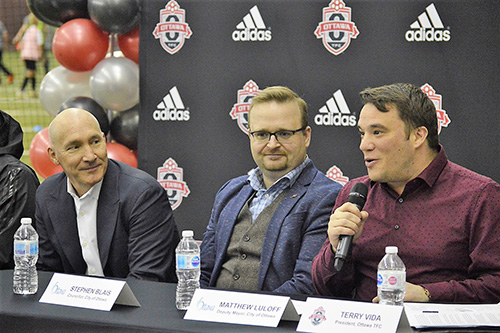 Orléans Ward Coun. Matt Luloff addresses the crowd at the launch for the Ottawa TFC soccer club as Toronto FC president Bill Manning and Cumnberland Ward Coun. Stephen Blais look on. Fred Sherwin/Photo
(This story was made possible thanks to the generous support of our local business partners.)