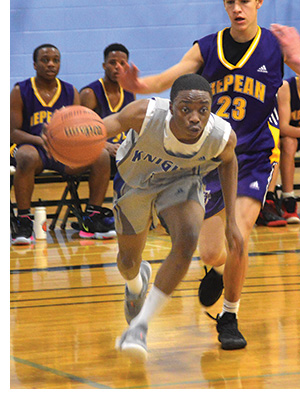 The St. Peter Knights Nwike Osiagwu drives to the basket during the NCSSAA junior boys Tier 1 championship on Feb. 28. FRED SHERWIN PHOTO
February was a bleak month for the east end's high school basketball teams. What started out as a post season full of high hopes ended with only one team capturing a title while five others were left wondering what could have been after they came up short in their quest for a city championship.
The Louis Riel Rebelles had the first shot at a title, but they came up a point short in a heart-breaking overtime loss to the Longfield Davidson Heights Ravens in the senior boys AAA final on Feb. 21 despite a 21-point effort by point guard Sacha Gautheir.
Collège catholique Mer Bleue suffered the same fate in a 60-57 loss to Notre Dame High School in the senior boys 'A' final.
On Feb. 28, three more east end teams would have their shot at a city championship on the hardwood in the La Cité Collegiale gym, but all three would suffer the same fate as the Louis Riel and Mer Bleue senior boys teams.
First up was the Mer Bleue junior boys squad which ened up losing 70-59 to the Earl of March Lions in the Tier 2 final. The game was relatively close through the first two quarters, but the Lions blew the game wide open with a 25-point third quarter.
Down 20 points heading into the final stanza, Mer Bleue did their best to close the gap but ultimately lost by 11 points.
Next up was the Gisèle-Lalonde Titans senior boys team, but they too had to leave the floor in defeat after coming out on the short end of 71-61 final against the Franco-Ouest Falcons in the Tier 1 senior boys final.
The Titans trailed 22-9 after the first quarter and never recovered. They did mange to narrow the deficit to seven points at the end of the first half, but by the end of the third quarter the Falcons had reestablished a 20 point lead.
It was the same story for the St. Peter Knights junior boys team which was completely overwhelmed by the Nepean Knights in the first quarter of the Tier 1 championship game. By the time they knew what hit them they were trialing 28-8 with the game barely eight minutes old.
The 20-point deficit proved too much for St. Peter to make up and they ended up losing by 36 points.
Cairine Wilson Wildcats capture Tier 2 title
The lone bright spot in the east end were the Carine Wilson Wildcats who beat the Hillcrest Hawks 61-58 to win the senior boys Tier 2 championship.
(This story was made possible thanks to the generous support of our local business partners.)