Eastern Ontario Wild advance to bantam AAA provincial tournament
By Fred Sherwin
March 21, 2019
The Eastern Ontario Wild major ban-tam AAA team has advanced to the provincial championships after sweeping past the Ottawa Jr. 67s in the Hockey East Ontario (HEO) finals in four straight games.
The Wild won the first three games 9-2, 4-0 and 5-1 and then clinched the title in emphatic fashion with a 10-0 win in Game 4.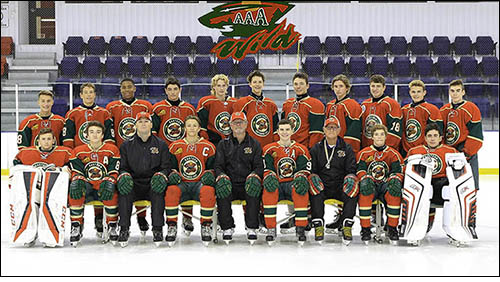 After amassing an impressive 33-2-1 record on their way to winning the minor bantam championship last year, the Wild totally dominated the rest of the HEO this past season going undefeated in 38 games. Even when you include the four losses, they still managed to compile a 64-4-4 record.
But all that goes out the window as they prepare to take on the best bantam teams from across the province in the All Ontario Championships which are being held in Toronto from April 1-6.
For the Wild to make it out of the round robin portion of the tournament and into the playoffs, they will need to continue to get significant production from the dynamic duo of Cedric Guindon and David Goyette who both have more than 50 goals and 100 points so far this season – and that doesn't include tournament action.
In 37 regular season and payoff games, Guindon scored 61 goals and added 56 assists for a total of 117 points, while Goyette has 53 goals and 64 assists in 38 games. A third player, Brayden Bowen, scored 32 goals and added 53 assists in 38 games.
During the regular season, the Wild scored a total of 247 goals, 135 more than their closet rivals. They also gave up a league least 43 goals, which is half as many as the next team. That's a goals for and against record of plus 204, which works out to more than six goals per game.
The man responsible for harnessing the players' immense talents is veteran head coach John Robillard who is retiring once the season is over after spending the better part of 25 years behind the bench, most of which were spent with the Gloucester Rangers organization.
The team's success on the ice this year carried over to the recent CCHL bantam draft during which every player on the roster was picked up.
Bowen and Goyette were selected third and fourth overall by the Cornwall Colts and the Hawkesbury Hawks respectively, and Guindon was selected 11th overall by the Rockland Nationals.
The first Orléans area player to be drafted was defenceman Cedricson Okitundu who was selected 34th overall by the Navan Grads in the fourth round.
Fellow Orléans prospects Chrisitan Berini (21st - Rockland); Nicolas White (38th - Rockland); Liam Hunter (46th - Navan); and Ethan Shore (50th - Rockland) were also selected.
(This story was made possible thanks to the generous support of our local business partners.)