Former Cumberland Panthers quarterback Christian Veilleux made history last weekend by becoming the first Canadian QB in 21 years to play for a Power Five Division I team.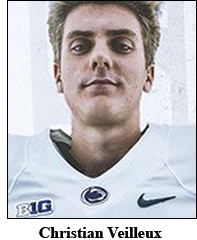 Veilleux not only got to play for Penn State in their game against Rutgers University, but managed to lead them to a 28-0 victory, throwing for three touchdowns after coming into the game late in the second quarter to replace starter Sean Clifford who was forced to the sideline thanks to a bad case of the flu which had sidelined more than 20 players before the game began.
After coming into the contest, Veilleux completed 15-of-24 passes for 235 yards and three touchdowns, while not committing a turnover. He also carried the ball 10 times for 36 yards on the ground.
Veilleux teamed up with fellow Canadian Malick Meiga from St. Jerome, Quebec for a 67-yard touchdown pass in the third quarter marking a rare Canadian to Canadian scoring play at the highest level of U.S. college football.
Veilleux is a true freshman, having signed a full scholarship with the Nittany Lions after spending time playing at a pair of prep schools in Buffalo and Maryland.
The last Canadian quarterback to play for a Power Five school was Ottawa native Jesse Palmer who started for the University of Florida in 2000.
Former North Gloucester Giant Jonathan Sutherland also had a standout performance against Rutgers. The senior safety and co-captain hauled in his first interception of his college career in the fourth quarter.
In signing with Penn State, Veilleux followed in the footsteps of former Orléans Bengal quarterback Michael O'Connor, who transferred to the University of British Columbia before the start of his freshman year due to a personality clash with former Penn State head coach James Franklin.