Orléans natives Rachel Homan and John Morris will be returning to the Olympics for a second time next nonth, only this time they will be playing together, having been named as Canada's designated mixed curling team.
The Cairine Wilson Secondary School alums will represent Canada at the upcoming Winter Olympics in Beijing which will begin on Feb. 4.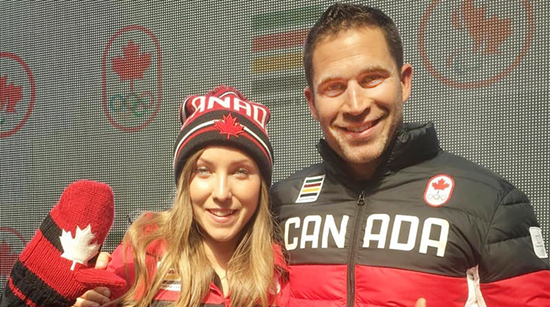 Homan competed with her regular team at the 2018 Winter Olympics in Pyoengchang, Korea and finished out of the medals in sixth place. The entire team was hoping to redeem themselves in China, but they failed to make it out of the Roar of the Rings Olympic Trials event last month.
While competing at the same Olympics in Pyeongchang, Morris won the gold medal in the mixed doubles event with Kaitlyn Lawes.
Coincidentally enough, Morris was sup-posed to compete with Homan at the 2018 Mixed Doubles Olympic Trials event in Portage-la-Prairie, but he had to find another partner after Homan won the Roar of the Rings.
The year previous, both he and Homan finished second at the 2017 Canadian Mixed Doubles Championships.
The pair were picked to represent Canada by the Canadian Curling Association after the scheduled Olympic Trials event had to be canceled last month owing to the fact that several of the players tested positive or COVID in the lead up to the event.
Homan and Morris were picked over other team's who were ranked higher than them.
The first two teams in the rankings – Jocelyn Peterman and Brett Gallant and second-ranked Jennifer Jones and Brent Laing – were ineligible because Peterman and Jones had already qualified by winning the Roar of the Rings, as did Gallant who is on Team Gushue.
That left two other teams ranked ahead of Morris and Homan – Nancy Martin and Tyrel Griffith (No. 3) and Lisa Weagle and John Epping (No. 4).
In the end Morris and Homan's selection was based on their international resume and their previous succcess in the event.
Despite the fact that there's an 11 year age difference between the two, they actually have a lot in common. They both attended Cairine Wilson Secondary School and Rachel's older brother Mark played lead for Morris when he won the 1997 Ontario Junior Championship and placed second at the Canadian Junior Championship.
When asked, Morris sunned up how the pair feel about representing Canada at the Olympics.
"Rachel and I have played a lot of mixed doubles together over the years with the dream of playing for Canada at the Olympics,'' he said. "We can't wait to get over there and give it our best. We know it's a tough field, but we've worked extremely hard this season and we'll be fighting hard for gold in Beijing.''