Learn to barbecue
like a master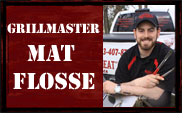 Welcome to my blog about all things barbecue and grilling. My name is Mat Flosse and I am the President of Meatings Barbecue and the newly-opened Meatings Restaurant on St. Joseph Blvd.
I first started grilling when I was 19 after watching my father, who is a grill master in his own right, barbecue for years. In the early days I would barbecue for my buddies who would eat pretty much anything that came off the grill as long as they had enough beers.
Like most people learning something for the first time, I made my fair share of mistakes, and burnt my fair share of meat. In fact, there's nothing worse than having your buddies, or your family, waiting all afternoon for a delicious BBQ and end up serving a burnt piece of meat.
Which is why I decided to write this blog to share my expertise with you so that you can avoid some of the mistakes and frustration that I had to endure in the early going.
Over the coming months I will be discussing everything from using your gas barbecue as a smoker, to organizing your very own pig roast, and a lot of things in between.
As you will come to find out, I'm very passionate about barbecue, grilling and smoking. In fact, there's nothing better on this earth than a slab of perfectly smoked ribs and a cold beer.
My initial inspiration for grilling came from watching BBQ Pit Wars on the Food Network and Epic Meal Time on YouTube. They taught me to think outside the box when it comes to BBQ. And I'll be sharing a little bit of that with you as well as well as some different recipies.
So you're welcome to join me for the ride -- I'll have a different bog post each month -- and by the summer you too will be grilling like a master.
"Stay Meaty Orleans"
Mat The Meat Man
Back to OrleansOnline.ca home page