Service you can
depend on

When Don and Netta Robertson first entered into the equip.m.ent rental business 14 years ago, they did so with the objective of catering to small and mid-sized contractors as well as homeowners with a commitment to service, selection and quality.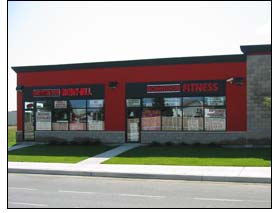 As a project manager in the commercial construction industry at the time, Don Robertson experienced poor service and a level of corporate arrogance that often exists in the vacuum of a monopoly when dealing with rental companies in the area. He was going to do business differently and so Robertson Rent-All was born.

The business was originally located on Innes Road at Jeanne d'Arc Blvd. and the moved to a larger location across from Builders Warehouse in 1995. Over time small contractors and area homeowners grew to appreciate Robertson's commitment to service to the point where visiting the store was like going to see an old neighbour or a long time friend.

Through the years, Robertson Rent-All has remained unabashedly committed to their customers who, in turn, remain loyal to them.

"We'll see some customers one year when they're doing a renovation and then not see them for three or four years until they start another project," says Netta Robertson. "I can't imagine doing business any place else. Orléans has been very good to us."

It is with that attitude and a die hard commitment to its customers that Robertson Rent-All has been able to hold its own and even thrive against the competition.

The biggest difference is service. Robertson Rent-All is unique in that they rent equip.m.ent by the hour. You can also reserve your equip.m.ent in advance and have it delivered to your home or site.

And if you ever have a problem with a piece of equip.m.ent during a job, they will come out and replace it for you if they can't figure out what the problem is over the phone.

"We've had the odd customer check out the competition, but they normally come back and tell us that our customer service is number one and we keep striving to do even more," says Robertson. "You can't stay complacent. You have to keep trying to do things better."

In the effort to constantly keep improving the way they do business, the Robertsons moved to their new location at 4380 Innes Road beside the McDonald's in February 2006.

The store offers a complete line of hand and power tools including floor sanders, nailers, generators, compressors, ladders, lighting, welding equip.m.ent, scaffolding, landscaping equip.m.ent, moving supplies, small tractors and even party rentals. You name it and Robertson Rent-All likely has it. They even rent out six person hot tubs which can be delivered and set up right in your backyard. Robertson Rent-All also sells and rents exercise equip.m.ent.

"I thought it would be a good idea to give people a chance to rent equip.m.ent before they went out and bought it. Exercise equip.m.ent can represent a substantial investment so having the opportunity to try it out first makes a lot of sense," says Robertson.

Robertson Fitness Equip.m.ent carries a large variety of treadmills, gym systems, exercise bikes, step machines and ellipitcals made by companies like Weider, Pro Form and Reebok. They also carry a complete line of boxing and martial arts equip.m.ent.

To find out how Robertson Rent-All can help make life easier, why not drop by their new showroom at 4380 Innes Road or give them a call at 613-834-1077. It could make the world of difference.