Recent events a reminder emergency preparedness begins in the home
This year has seen its share of extreme weather. January's snowstorm, the recent derecho, or the extreme heat that has already come to the city.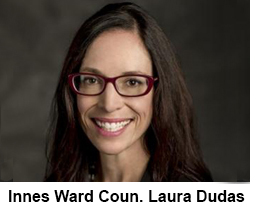 When these events happen, it is important that we are prepared and ready to respond.
During May's storm, I found myself caught off-guard at home, whether it was the lack of battery packs for charging phones, or lanterns for lighting, it left me thinking about my own need to better prepare my family for the next emergency.
All three levels of government offer some fantastic resources and tips on being prepared for unexpected emergencies. To help understand the risks in our area, create a household emergency plan, and build an emergency kit, I would encourage you to check out: www.getprepared.gc.ca, as well as the City of Ottawa website at Ottawa.ca/en/health-and-public-safety/emergency-preparedness to find out more on how to be prepared for and stay safe during emergencies.
In Ottawa, we are not strangers to extreme weather. We have bitterly cold winters with record snowfalls; and our summers have extreme heat, coupled with stifling humidity.
For many of us, these are manageable situations, however for Ottawa's more vulnerable residents, as well as anyone who doesn't take the right precautions, it can be life-threatening.
On another note, with summer now officially underway, it is important to know the signs of heat-related illnesses such as heat stroke and dehydration.
Ottawa Public Health provides residents with tools and tips on how to beat the heat and stay safe during extreme heat. Visit Ottawapublichealth.ca/en/public-health-topics/extreme-heat-and-humidity.aspx for more information.
Lastly, I want to wish everyone a safe and happy Canada Day long weekend and an enjoyable summer shared with your loved ones.
Summer the perfect opportunity to shake off the COVID pandemic blues
Hello there. Is it just me, or does it feel like we are trying to make up for two summers worth of missed community events and social interactions?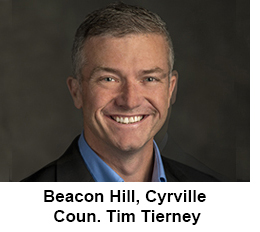 Oh, that is exactly what we are doing, and I couldn't be happier.
Despite a massive storm, a devastating fire, and a lingering concern of viruses (both new and old), we have managed to keep the morale way up. They say 'hard times bring people together', and this has rung so true to me recently. These shared experiences throughout the community have brought out the best in so many people and it warms my heart to witness.
I am looking forward to having a 'normal' summer this year. But, even if life throws us curveballs, I know that our community is prepared to face them with strength and unity. We have a lot to be thankful for and to look forward to.
I know that my team and I will be out in the community weekly for multiple occasions, and we look forward to seeing faces, both new and familiar.
We finally had our 10th annual Celebrate Summer event two weeks ago. Thank you to everyone who came out, it was the biggest one yet! The donation box for the Gloucester Emergency Food Cupboard racked up $2,900, which goes a long way! It was such a great kick-off to summer.
Now we get to look forward to graduations, grand openings, com-munity BBQs, movies in the park, summer camps and sports, a few renewed parks, a new community centre, Canada Day celebrations and much more!
All this celebrating is much-deserved. I hope that all of you, who have been through so much these past few years, get some sense of peace this summer. I am so proud to be connected to this community, and know that we as councillors are happy to be here to support our communities in any way that we can.
Enjoy your summer. Until next time, friends.
Caretakers of Petrie Island marking 25 years of stewardship
This year, The Friends of Petrie Island are celebrating 25 years of stewardship, education, and care for our beautiful ecological gem here in Orléans. This incredible public park is home to some of the most iconic and beautiful trails, green spaces and sunset scenes our city has to offer. It has inspired grassroots social media groups where incredibly talented local photographers like Micheal Ricco and Greg Scriver post their beautiful photos of wildlife and landscapes that could easily be printed and found in coffee table books.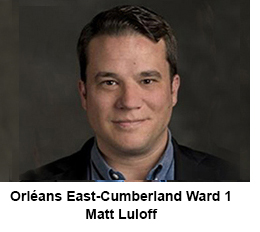 Late last year, I was pleased to nominate Al Tweddle, FOPI's founder and dedicated leader for the honour of having the road leading down to the island named for him, and earlier this year the signs went up in recognition not only of his tireless work on the island, but for over 50 years of contributions to building our community. Al has done so much for our community, especially just up the hill in beautiful Queenswood Heights.
All summer long, you can find Al at FOPI HQ with his team assisting with turtle hatching, dealing with invasive species, maintaining trails and lookout benches and making the island a welcoming place for everyone. His deep respect for ecological preservation has inspired so many other incredible community members to take up the cause and FOPI regularly hires summer students through the Federal Canada Summer Jobs program to help out.
Petrie Island is so much more than a beach. It is a gathering place, a place for contemplative solitude, a place to exercise, and a place to enjoy all that the natural beauty of Orléans has to offer.
As we celebrate FOPI's quarter century, I'd encourage everyone to recommit to protecting our park by volunteering with cleanups, donating to FOPI, or simply enjoying the space while respecting the ecological sensitivity of the area. Let's keep our gem beautiful, so that we may enjoy it for years to come!
City making investments in local roads and park infrastructure
It is finally starting to feel like spring! As we move into warmer months, residents can expect to see important investments in Cumberland Ward.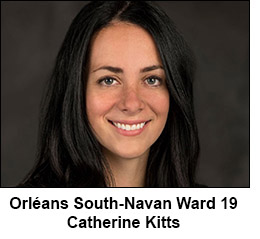 You've heard me say many times that I've taken every opportunity to advocate for attention to Ward 19's crumbling road infrastructure, and I'm happy to reiterate that this year's budget included a significant investment in road resurfacing.
Projects to be undertaken this year include resurfacing sections of Milton Rd., Old Montreal Rd., Frank Kenny (and Jeanne d'Arc Blvd in our neighbouring ward).
Residents will also notice new investments in the many beautiful parks and nature spaces we have in Cumberland Ward.
Upgrades were made to both the Navan and Sarsfield outdoor rinks this year, crumbling foot bridges were repaired in Queenswood Heights and a new picnic shelter at Millennium Park will give families an option for shade this summer. Leslie Armstrong Park in Bearbrook is also getting a facelift with brand new play structures and new accessible features. Long-awaited construction is finally beginning on a new district park in Cardinal Creek Village in the coming months.
While most aren't looking forward to winter just yet, I'm pleased to share that I was able to secure the installation of a new rink shack at Vista Park that will be available for community use next season. In the meantime, residents can now enjoy pickleball in the boarded rink at Vista over the summer!
An unfortunate downside to the nicer weather is that we do see more incidents of speeding. A reminder to all to continue to mind your driving speeds, especially in residential areas, near parks and in school zones. Speeding and dangerous driving continues to be the issue brought to my attention most frequently. Pre-existing traffic calming measures will soon begin to be reinstated, and as committed, I'm using every dollar of my traffic calming budget to invest in new measures that will be installed later this summer.