Often anonymous volunteers are the lifeblood of our community
While I usually use this column to draw attention to emerging issues and take the time to explore and express my thoughts in a more fulsome manner, this week I'd like to draw attention to some amazing volunteers who are doing excellent work in our community.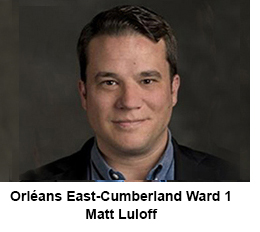 Earlier this month, Yuri Locmelis, Todd Smith and members of the Cumberland Community Association provided their time, material
and expertise in building a brand-new walking bridge behind the Cumberland Heritage Village Museum. The new crossing will serve the hundreds of walkers, snowshoers and cross-country skiers who take advantage of this wonderful greenspace year-round. I have seen firsthand how deeply these volunteers care for our community. They are hard-working, generous and benevolent and they deserve our gratitude and admiration.
While this is merely one example, I want to say thank you to all of our community association volunteers who work tirelessly to make Orléans East – Cumberland a better place to live.
After attending the Orléans Minor Foot-ball Association's homecoming weekend, I would like to highlight the incredible work administrators, coaching staff and other volunteers that makes local youth sports possible.
Whether it is football, soccer, baseball and softball, figure skating, water-polo hockey or basketball – these volunteers provide our children a healthy outlet and the opportunity to become confident young leaders who understand the value of hard work and sportsmanship.
Lastly, I'd like to thank the volunteers who work tirelessly and selflessly to bring us local events such as the Cumberland and Orléans farmer's markets, the Canada Day event on Petrie Island, Carivibe, the Orléans Beer Festival and so many others.
Orléans East – Cumberland is a vibrant place because of the wonderful, diverse people who live here. And we are a much better place because of the generous people who give their time and efforts to building our community.
2024 budget deliberations kick off with eye on local priorities
As a busy fall begins, council is turning its attention to the City budget. One of my most crucial duties as your representative is ensuring that our community's needs are reflected in it.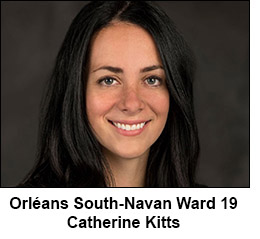 Among the priorities that I discussed with many of you over the past year is a focus on transportation: the continued repair and renewal of our roads, transportation infrastruc-ture improvements to ease congestion, better transit and creating safer communities.
I've also repeatedly heard from residents that with the cost of living being what it is – paying more for groceries, for gas, for utilities – that the City has a responsibility to keep property taxes as low as functionable and to examine its own spending.
Recently, council voted in favour of keep-ing the overall tax increase of no more than 2.5 per cent. Despite rising inflation and multiple pressures our City is facing, I'm also aware of the financial challenges every family is contending with.
While some colleagues around the table want to increase the tax rate beyond what has been proposed, it's not something I can support while the cost of living continues to skyrocket.
I'm looking forward to the results of the mayor's service review to find efficiencies within the City, and I'm also committed to continuing to put pressure on our provincial and federal counterparts to ensure Ottawa gets its fair share for our most pressing challenges, including: housing, transit, emergency response and health services.
Recently, through my advocacy as chair of the Ottawa Board of Health, the sector successfully stopped the Ontario government from increasing the municipal share for public health funding from 25 to 30 per cent. A small but critical win that keeps more money in City coffers.
Public consultation on the budget has already begun, and Orléans South-Navan residents will also have an opportunity to participate in an in-person budget consultation hosted in partnership with my east end colleagues. Details to come.
New legislation will have drastic impact on municipal development
Over the last several years, the Government of Ontario has made massive changes to their Provincial Planning Act, the legislation that regulates how municipalities process and approve development appli­cations.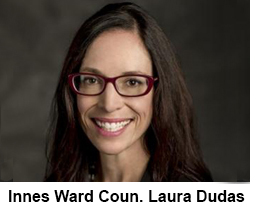 The City of Ottawa is also in the process of a complete review of its Zoning By-laws. Together, these legislative actions represent the greatest changes to how development appli-cations are processed since Ottawa's amalga-mation and will significantly alter how both residents and Councillors are involved in the development process.
Last year, the provincial government passed Bill 109, More Homes for Everyone Act, and Bill 23, More Homes Built Faster Act. These bring transformative change to the processing of development applications. Site Plan applications (applications that are not seeking to change a site's zoning) no longer go to a council vote, and they must be approved by staff within 60 days. As well, Zoning By-law Amendment applications (applications that do seek to re-zone a property) must have a final decision within 90 days.
I can't stress enough how significant these changes will be. In addition to removing a councillor's ability to force community consul-tations and a vote at council on Site Plans, there are also changes what applications are now fully exempt from the process. For example, three housing units may now be built on any property parcel; or any building with ten units or less. In addition to the provincial changes, the City is required to develop a new Zoning By-law to implement changes brought about by Ottawa's Official Plan.
The City is launching this multi-year pro-ject with public information sessions. The east end session is on Sept. 23 from 2:30 to 5 p.m. at the Ray Friel Recreation Complex.
These changes drastically change how you and I engage in the planning process, which is why I want to keep residents informed. The potential impact is still being determined by staff, and I will be sharing further updates on my website at LauraDudas.ca.
Motorists, cyclists and pedestrians must look out for one another
As we welcome back many residents from summer vacation, we also welcome many more commuters back on the road.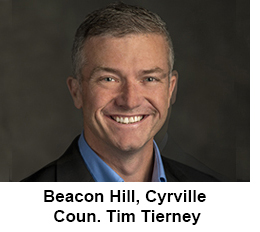 September is very busy on Ottawa roads. Construction activity is in full swing, students are commuting back and forth to school and pedestrians are still enjoying outdoor activities, such as running and cycling.
As chair of the city's transportation committee, I thought it would be suitable to use this month's column to remind my east end neighbours that we have a shared responsibility to keep one another safe. Here is some important information I recently received from City staff...
Fatal and major injury collisions occur at a higher rate in September than most other months.
- About 25% of all fatal and major injury collisions on Ottawa's roads involve pedestrians.
- 29% occurred when a pedestrian was crossing a road midblock (away from an intersection)
Motorists, please remember to look in all directions for pedestrians and cyclists before completing a right or left turn at intersections, even when you have the green light.
Always make a complete stop at all stop signs and red lights. Always abide by the speed limit, especially in school zones. And I can't stress this enough, do not forget to check your blind spots!
Pedestrians are reminded to please wait for the walk signal to cross at signalized intersections and make eye contact with nearby drivers when crossing at any crosswalk. Whichever way you choose to get around, please do so with caution and respect for each other's lives.
While we're on the topic of back to school and road safety, I'd like to briefly promote the available opportunities to work as a crossing guard or school bus driver. Please consider looking into these opportunities further or sharing with someone else who may be suitable.
For more information on being a crossing guard visit www.crossing-guard.ca.
For more information on becoming a school bus driver visit www.driveyellow.ca. Happy back to school everyone and stay safe!