STAR STAFF – During the next two months, the Shenkman Arts Centre will host a variety of entertainers from illustionist Chris Funk to the very funky New Orleans Jazz Festival, the silky smooth vocal stylings of Sarah Slean and Hawksley Workman and the acerbic comedy of "This Hour Has 22 Minutes" contributor Trent McClennan.
It all kicks off on Feb. 1 with the annual Fête Frissons festival featuring complimentary performances and arts workshops, face-painting, arts and crafts, storytelling, dancing and outdoor fun in the snow... all for free. You might want to bring a few ducats with you, however, to enjoy $6 tacos and mac and cheese prepared by Meatings BBQ.
On Feb. 22, Canadian "wonderist" Chris Funk will bring his latest show "Redefining Wonder" to the Shenkman Arts Centre. Some people may remember Funk from his appearance on Season 11 of "America's Got Talent". He also made an appearance on Penn and Teller's "Fool Us" in which made individual cards rise out of deck of cards while playing the violin. Tickets for Chris Funk - The Wonderist: Redefining Wonder are $35 for adults and $20 for students and available through the online box office at shenkmanarts.ca.
On Feb 25, the New Orleans Jazz Orchestra will perform on the Harold Shenkman Hall stage under the direction of Adonis Rose. The program will include a selection of music by New Orleans songwriter, composer and producer Allen Toussaint.
Tickets are $58 for adults and $20 for students. If you love the musical gumbo that is the sound of New Orleans, you will love the New Orleans Jazz Orchestra.
The second installment of the Café Classico series will be held on March 8 at 1 p.m. in the lower lobby of the Shenkman Arts Centre with the Frond Duo and Stellae Boreales. The Frond Duo are Laura Nerenberg on violin and Daniel Parker on cello. The pair have been playing together for several years in various ensembles – most notably, the Triptych Piano Trio.
Stellae Boreales are a violin ensemble, from the Ottawa Suzuki Strings music school. Tickets are $15 snd can only be purchased by visiting the Shenkman Arts Centre box office in person.
On March 13, two of the most remarkable voices in Canadian music will share the same stage for the first time.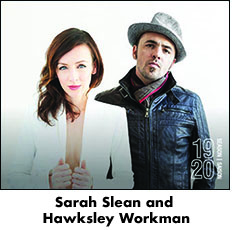 Sarah Slean and Hawksley Workman will perform songs from their respective musical repertoires that include a combined output of over 27 albums, accompanying each other and singing as a duo.
During her musical career, Slean has been nominated for three Junos and two Geminis while releasing albums in over 10 albums worldwide. Workman is a two-time Juno Award-winning singer/ songwriter and multi-instrumentalist with a catalogue of 16 releases. Tickets for this unique evening of music are $45 for adults and $20 for students.
On March 25, Trent McLellan will bring his "Hunt for Happy Tour" to the Harold Shenkman Hall for an evening of humour rooted in his native Newfoundland. McLellan is a regular on "This Hour Has 22 Minutes" and he has performed at the Just For Laughs Festival in Montreal. Tickets for his show are $35 for adults and $25 for seniors and students.
The Rag & Bone Puppet Theatre will present "Top Hats, Tunes and Tales", a collection of favourite stories and songs, on March 18 at 1:30 p.m. in the Richcraft Theatre. Tickets are $10 each or $32 for four. The month of March will wrap up with a performance of "Beauty and the Beast" by the Chamber Opera Company of Ottawa on March 28. Tickets are $20 for adults and $15 for children.