Forest Valley Terrace, which sits atop a hill overlooking the western end of St. Joseph Boulevard, certainly knows how to make a good impression.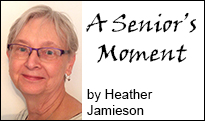 The three-storey building, in muted shades of brown, is not particularly noteworthy, until you spot the cornerstone which reads "Holy Rosary Scholasticate 1930" and the initials for the Oblates of Mary Immaculate engraved high above the front door; both clues of the building's origins as a seminary.
A "wow" moment comes with the view from the spacious foyer into the large chapel, where sunlight illuminates a beautiful stained glass rose window and the three vertical stained glass panels on either side.
The original building was a one-storey seminary, built in 1930 by the Oblates of Mary Immaculate, with two additional storeys added in the early 50s and the spacious chapel added in 1955. As its role as a seminary began to diminish in the early 60s, the Oblates sold part of the property to the National Capital Commission to be part of the Greenbelt.
It continued as a seminary until it was sold in 1974 and began its life as a care facility; originally providing for chronic care patients, then solely for dementia care, and now, renamed Forest Valley Terrace, it is part of the Symphony Senior Living community providing both assisted living and memory care.
I visited recently and met with executive director Jessy Staniszewski and community relations coordinator Glenese Francis-Wright. Ottawa-native Staniszewski has been with Symphony Senior Living since May 2018, starting as wellness coordinator at Symphony Orléans before being appointed executive director of Forest Valley Terrace in January. A registered practical nurse, with nine years of experience in the field of retirement living, he and his team are clearly doing something right as recent mandatory inspections under the Retirement Homes Regulation Authority had no findings of non-compliance.
"We have a great team now and so we are building occupancy," says Staniszewski.
My good impression of Forest Valley Terrace goes far beyond its bricks, mortar and stained glass. The newly renovated residence, including large outdoor spaces, lives up to its promise of being "home-like and comfortable" and its current management team are passionate about their work.
The chapel is the heart of the residence and is large enough that communion and rosary can take place at the altar, while residents participate in chair physio in the room's centre. Along each side are comfortable couches, which create intimate spaces for visiting with family or engaging with other residents. (You know it's a multi-purpose space when you notice the air hockey game tucked against the wall behind the alter!)
Near the entrance is the residence Bistro, which provides snacks and all-important hydration therapy.
"Adequate hydration is an ongoing issue with the older population," explains Staniszewski. "Many older adults do not like to drink water and prefer caffeinated or sugar-filled options like coffee, tea and juice."
At Forest Valley Terrace they ensure that all residents receive healthy fluids with all their meals and snacks.
To create its home-like atmosphere, a real effort has been made to "de-institutionalize" the space – medications aren't on traditional med carts, but kept in lovely wooden cabinets which I suspect were part of the seminary's original furnishings. The dining room, with its deep blue linen napkins and placemats, has a massive wooden china cabinet, much like ones many of the residents would have had in their own homes. Rather than one large television room, the assisted living floor has several cozy seating areas.
A wonderful example of a staff willing to innovate was their solution to the challenge of residents on the Memory Care floor waking up at night and not being able to settle back to sleep. A staff member wondered if perhaps residents were taking their "cues" that it was no longer night by seeing staff in day clothes and bright lights in the common areas. Now the overnight staff work in their pyjamas and the lights are dimmed. It worked.
While this innovation was first introduced at Forest Valley Terrace, it has been incorporated into Symphony's other Memory Care units. As the company's website says: "Sometimes it is the small, common sense ideas that can make a huge difference."
My August column will talk more about the various programs and activities at Forest Valley Terrace, including a story about baby goats and the miracle of music