I have just turned all the hangers in my closet backwards, so the hooks face the front. From now on, when I wear something and return it to the closet, I'll put the hanger back as it should be.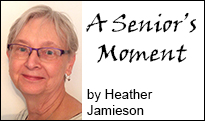 Why? A year from now, I will know immediately what I haven't worn and should be getting rid of. "Someday I might wear it" is simply not a good enough reason to hang onto clothes that are not being worn. We shouldn't be keeping anything in our homes "just in case" we might use it someday. (Easier said than done, right?)
The closet trick was one of many suggestions given by Barb McDougall from Darling Solutions, an Ottawa company providing 'Lifestyle Transitions for Seniors', in a downsizing presentation at Chapel Hill Retirement Residence. It was part of All Seniors Care's "Living Well Life After 65" series, where experts on various aspects of senior living are brought into All Seniors Care residences. Topics have included dementia, medications, fraud prevention and driving after 80.
"The goal is to offer education regarding topics of interest to seniors who are living in our residences or in the community," explains Anita Lima, Chapel Hill Retirement Residence's Lifestyle Director. The full-service, bilingual retirement residence is on Pagé Road at Innes.
McDougall gave an entertaining and highly informative presentation to a group of 20 community members, many of whom were couples. Some of the retirement home's residents who still have their homes also attended.
She started by acknowledging how stressful even the thought of downsizing or moving can be. To help alleviate that stress, she recommends a switch in thinking from "downsizing" to "rightsizing." To help determine what is "right" for each of us, she suggests that we identify the things that mean the most to us and differentiate between what we 'want' and what we 'need.' And, she emphasizes, start decluttering and downsizing early, before an emergency takes control away from you.
Fallingbrook residents Sig and Aline Sigurdson attended the session and have already started the process of getting rid "of material things that we are no longer using." Both in their early 80s, the couple started to downsize their possessions about five years ago "to make things easier for our children down the road." They are determined to stay in their four-bedroom home, in which they have lived since 1985, "until such time as there is absolutely no other alternative".
They attended the Chapel Hill downsizing presentation to see if there were things they could learn about the process. A favourite suggestion was the idea of taking pictures of things that we may have difficulty parting with and keeping the photo in a scrapbook, or even hanging a framed picture of the cherished possession in one's new home.
Whatever their children and grand-children don't want is being donated to the Salvation Army Thrift Store and when the time comes, they will donate the remainder to a church that assists new Canadians.
In my next column, I will share more insights from McDougall and other experts on how to reduce clutter and downsize. Can you guess in which room McDougall suggests you start?
An added bonus from turning my hangers around was that I found seven items of never-being-worn clothing for my "to donate" bag.
----------------------------------------
For the past decade, I have become a committed runner. It may not be pretty when I run, but it has become my best bet to try to stay as healthy as I can, for as long as I can.
A year ago, I wrote about the Dussault family from Blackburn Hamlet – Manon and Christian and their children Gabrielle and Nicolas – who were introducing parkrun, an international 5K run/walk program, to Orléans.
It has been a great success and will celebrate its one-year anniversary on September 28. These free, volunteer-run weekly timed events take place around the world, and "parkrun tourism" has brought participants from Europe, Australia, the United States and other parts of Canada to Orléans over the past year.
Participants can walk, run, push a stroller or walk their dog on the Ottawa River Pathway East Trail along the Ottawa River. We meet at 8:45 each Saturday morning at the trail's entrance by Cairine Wilson Secondary School on Orléans Blvd. Join us! www.parkrun.ca/orleans.