Orléans speedskaters Ivanie Blondin and Isabelle Weidemann are picking up where they left off last season, finishing on the podium in each of the last two World Cup events.
After placing second in the Mass Start event at the opening World Cup event of season in Poland earlier this month, Blondin finished second again in Stavenger, Norway last weekend. In both races, she was nipped at the finish line by her long-time rival in the event, Irene Schouten of the Netherlands.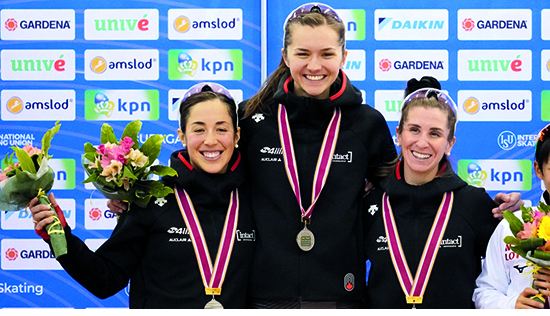 (L to r) Valerie Maltais, Isabelle Weidemann and Ivanie Blondin recently won a gold medal in the women's team pursuit event at the World Cup in Poland. FILE PHOTO
WWeidemann placed second in the 3,000 metres in Poland, and second again in the 5,000 metres in Norway.
Together, they won the Team Pursuit event in Poland with teammate Valerie Maltais.
There was no Mass Start or Team Pursuit event in Norway, however, Blondin did pick up her third silver medal of the season as part of the women's sprint team.
All of which bodes well for Blondin and Weidemann chances at the upcoming Winter Olympic Games in Beijing in February.
Blondin and Weidemann finished 5th and 6th respectively in the 5,000 metres at the 2018 Winter Olympics in South Korea and 6th and 7th respectively in the 3,000 metres. They placed 4th in the Team Pursuit with Maltais, just missing out on a spot on the podium. This time around, the trio is aiming for that elusive Olympic medal, while Blondin and Weidemann hope to improve on their results in the individual events.
For Blondin, the Beijing Olympics will likely be her final opportunity to try and win a medal. At 31 years of age, she is the grande dame of Canada's women's team. This will be her fourth Olympics having competed in Socchi in 2014 and PyeongChang in 2018.
This will be the second Winter Olympics for the 26-year-old Weidemann.
Fellow Orléans native Vincent de Haître is also hoping to qualify for the Olympics. After taking two years off to focus on his other love, cycling, de Haître is back on the ice trying to regain the form that brought him to the 2018 Olympics in PyeongChang and saw him set a world record in the Team Sprint event in Calgary in 2017.
His best result in the first two World Cup events this year is a 14th place finish in the 1,000-metres in Norway.
De Haître placed fifth in the team pursuit at the 2020 Summer Olympics in Tokyo. It was Canada's best-ever result in the event.