Local visually impaired golfer Kevin Frost recently returned from South Africa where he finished seventh in both the South African Blind Open and the IBGA World Blind Golf Championships which were both held in Cape Town.
Frost, who has severe tunnel vision equivalent to looking through a straw, managed to brave winds in excess of 50 km/h to finish seventh in the B2 division which is for golfers whose vision is five degrees of less.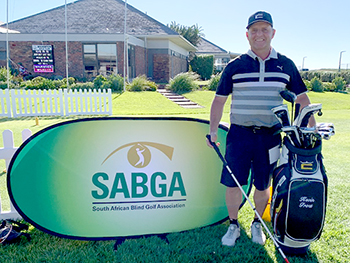 Fellow Canadian Kiefer Jones, who has a field of vision of 10 degrees, won the B3 championship in both events which is for golfers with a field of vision between five and 20 degrees.
It was the first time the World Championship has been held since 2018. The 2021 event was canceled due to the COVID-19 pandemic.
For Kevin, who took up golfing only four years ago, it's been a long wait.
"It's something I've been working toward and dreaming about for a while," says Frost, who recently returned home after two days of travel and two long flights.
In between playing two rounds of golf in the South African Blind Open and three rounds at the World Championships, Frost found time to go on a safari with his fiancée Loretta, who made the trip with him.
"It was amazing," says Kevin, who was able to see the animals, including an elephant and a tiger, when they got close up to their vehicle. "It's something everyone should do at least once in their lives."
As for the golf, Kevin says the conditions were the windiest he has ever played in. "It was so windy that I couldn't even use my driver or my ball would be blown 40 yards off the course, and when you were putting you only had to tap it to go 20 yards."
The wind was so bad that Kevin had to keep his baseball cap in his bag because it kept blowing off his head.
Despite the wind, Kevin said it was the experience of a lifetime and something he definitely wants to try again. As for now, he is concentrating on his next tournament, the Ontario Adaptive Championships in July with an eye on a potential trip to the paralympics should golf be added to the program when the paralympics and held in Los Angeles in 2028.
"That is the dream," says Kevin who was unable to compete in the paralympics in either speed skating or cycling, two other sports he has excelled in, largely because of his age. But golf is much kinder on its participants when it comes to age than other, more physical sports are.
Kevin is also looking forward to seeing his book, Deaf Blind Champion, come out in audio format on Amazon as early as next week. From the beginning, Kevin's goal was to release an audiobook so that other visually impaired people can benefit from its message.