Proudly serving the
community of Navan
since 1898

As small town institutions go, none are as important to local residents or more tightly woven into the fabric of the community than J.T. Bradley's Country Convenience Store in Navan. In fact, it is impossible to imagine what the east end community would be like without J.T. Bradley's.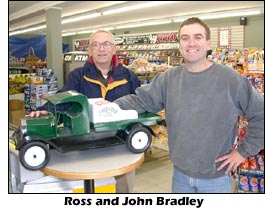 It is the common thread that has tied the community together for the past 115 years, and continues to do so thanks to its current propriertor, John Bradley who is the great-grandson of the store's original owner J.T. Bradley.
John Thomas Bradley moved to Navan from Blackburn Hamlet with his wife Florence and their six children in 1898. He opened a small country store soon afterward to serve the residents of the local village and the surrounding area.
One hundred and fifteen years later, J.T. Bradley's is still the place to go for last minute groceries, a case of beer, your favourite bottle of wine, or a hot cup of coffee.
Besides being a general store, J.T. Bradley's is also a licensed LCBO and Beer Store outlet, and more recently they became the local dealer for Purina animal feed, selling everything from dog food to chicken feed.
The coffee counter is a popular gathering spot for locals who trade the latest scuttlebutt over a hot cup of java. Framed autograph jerseys of Navan's most famous resident, Major League Baseball pitcher Erik Bédard, hang from the ceiling and the bulletin board is filled with community notices, used items for sale and apartments for rent.
While the physical appearance of the store has evolved over the years, the purpose to serve the residents of Navan and the surrounding community has not. In fact, John Bradley and his father Ross have made it their life's purpose to help their community in any way they can, whether it's volunteering to raise money to help repair the church steeple, or build a new cenotaph.
One of the Bradleys' more successful efforts was the Navan Street Dance which raised thousands of dollars for a number of local charities between 1999 and 2005 including the 2001 International Plowing Match in Navan and the OutCare Foundation of which John Bradley is the current chair.
For their ongoing efforts the Bradley family received a key to the City in 2001, and Ross Bradley was presented with a lifetime achievement award from the Navan Lion's Club.
Last but by no means least, J.T. Bradley's is a proud supporter of the Navan Fair, the Greater Orléans Canada Day Celebration and the Orléans Outstanding Youth Awards.
Through his many efforts, John Bradley is carrying on a family tradition as the proud proprietor of a small town institution.
J.T. Bradley's Country Covenience Store is located on Colonial Road just east of Trim. They can be reached by phone at 613-835-3781 or by e-mailing jtbradley@bellnet.ca. You can also visit their website at www.jtbradleys.com. Store hours are Mon. to Fri. from 6 a.m. to 9 p.m.; Sat. from 7 a.m. to 9 p.m. and Sunday from 8 a.m. to 6 p.m.