Since first opening for business in 1995, Precision Automotive has built a reputation for delivering honest service for honest value.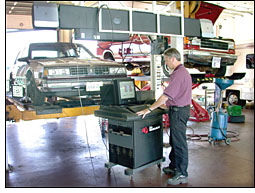 Through hard work and the simple philosophy of giving each and every customer value for their money, Precision Automotive has built up a loyal clientele that continues to grow every year.
Today's automobiles are highly sophisticated pieces of machinery requiring proper, regularly scheduled maintenance. The technicians at Precision Automotive are especially knowledgeable when it comes to the latest in automotive technology.
Precision Automotive is legally authorized and fully qualified to fulfill maintenance obligations on all vehicles, even new ones, and the vehicle's manufacturer is bound to honour its warranty obligations.
"Most people feel they have to bring their car in to the dealer to get it serviced because of technology or because they think the warranty will be voided otherwise. Those are myths," explains Precision owner Rob Brouwer.
The technicians at Precision Automotive will stamp and date your owner's manual as well as create a personal history for your vehicle to prove it is being properly maintained. This ensures that the manufacturer will have all the information they require to honour their obligation to you.
Aside from the manufacturer's obligations, Precision offers a 12 month/ 20,000 km warranty on all their work. The technicians treat every car as if it were their own. After market parts are constantly monitored to ensure the utmost in quality and dependability.
"The important thing is to make sure the customer is comfortable with the work that is being done on their vehicle," says Brouwer. "It's one thing to fix a vehicle, but if the customer doesn't feel they received adequate value for their money when they leave the shop, you haven't done your job."
At Precision Automotive they provide a four-level maintenance program, personalized service and quick turnaround, all delivered in a comfortable atmosphere.

The secret to the garage's ongoing success is the continued commitment to customer satisfaction which comes with being able to give them what they want, which in a word is "value".

"If customers see value they'll pay the bill happily and they'll come back again," says Brouwer. "Price is perceived as a value as long as the job is done right. If the job isn't done right then what looks on the surface as being of value isn't so valuable after all."
A large part of the business Precision does is preventative in nature. As the investment people make in the family car increases, so does the need to properly care for it. In providing preventative maintenance to your vehicle, the technicians at Precision can help you pay 46 per cent less on average in repairs than people who wait until a breakdown occurs.
Brake integrity is one of the more pressing concerns for drivers. Strange sounds like metallic grinding, or unusual vibrations, or simply a lack of responsiveness, could indicate that parts of your brakes are wearing out or are no longer safe.
To ensure your brakes don't reach the point where they will require expensive repairs, Brouwer recommends that your vehicle gets a thorough inspection at least twice a year. That way they can manage your car's maintenance and ensure against any future problems.
The technicians at Precision can diagnose problems, perform scheduled maintenance or tackle specific malfunctions requiring immediate repair. They provide a shuttle service in Orléans after 8 a.m. And if your vehicle requires a more lengthy stay, they have a fleet of courtesy vehicles to keep you moving and on the go.
Precision Automotive is a CAA Approved Auto Repair Service Provider and they are a Better Business Bureau Honour Roll accredited member.
Through the years Rob Brouwer and the folks at Precision Automotive have been steadfast supporters of community events such as the former Fallingbrook Canada Day Celebration, and for the past 10 years they've sponsored the Greater Orléans Canada Day Celebration on Petrie Island.
Precision Automotive is located on Vantage Drive just off Innes Road at Tenth Line Road beside McDonalds (map). They can be reached by phone at 613-841-5550.
For more information about Precision Automotive and the services they offer visit www.theautopros.ca/.