Family owned, family run,
family friendly
Check out our new catering menu

It's been more than 10 years since the Nasr family first opened the doors to Cedar Valley Restaurant and in that time they have built up a five star reputation for making delicious food that is both healthy and nutritious.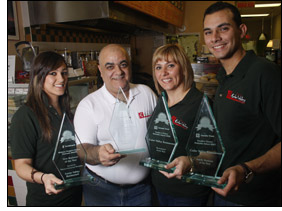 The Cedar Valley Restaurant is owned and operated by the Nasr family (l to r) Jessica, Fadi, Marcelle and Georges. File photo
Lebanese food continues to catch on in popularity, not only due to its wonderful flavour, but for its health-promoting qualities as well. At Cedar Valley they use only the freshest and highest quality ingredients.
The decor in Cedar Valley is very bright and cheerful which matches the warm and friendly way they treat all their customers.
The combination of delicious healthy food and fast and friendly service has enabled Fadi and Marcelle Nasr to build an extremely loyal clientel, many of whom have been coming to the restaurant since they first opened their doors in 2002.
"We are very blessed," says Marcelle. "Many of our customers have become our good friends. They are part of our extended family... our Cedar Valley family."
Cedar Valley's recipe for success has resulted their receiving a number of honours over the years including multiple People's Choice Buisness Award for Family Business of the Year and Restaurant of the Year.
Besides the traditonal chicken and beef shawarma sandwiches, the menu includes several lamb dishes such as roasted lamb and rice, BBQ lamb chops and lamb-kebabs. The Fattouche chicken salad is also very popular as is the quail, which is marinated and then grilled over an open flame.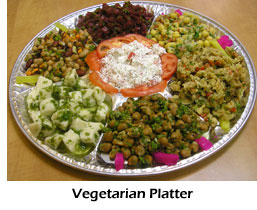 Vegetarians in particular have come to appreciate Cedar Valley's Lebanese cuisine thanks to the number and variety of meatless dishes such as Fattouche, Tabouleh, Shanklish, Musakaa, and Lentils and Rice.
You can also purchase a variety of delectable desserts to end your meal including such favourites as Baklawa, Sablé, and Maamoul, all of which are homemade. The Baklawa is also available sugar free for people who have to watch their sugar levels.
So what are you waiting for? If you haven't had the good fortune of experiencing the wonderful food at Cedar Valley Restaurant, drop by to eat-in, or take it home with you.
Cedar Valley can also cater any size event. Just let them know when, where the event is happening and how many people you expect will be attending and Fadi and Marcelle will take care of the rest.
Cedar Valley Restaurant is open Monday to Saturday from 11 a.m. to 10 p.m. and is located in the Orleans Garden Shopping Centre at the corner of Jeanne d'Arc Blvd. and Orléans Blvd. (see map). They're phone number is 613-590-0372.