The COVID-19 pandemic has been tough on everyone, but it's been especially tough on young people who are used to a high level of socialization provided by organized sports and other extracurricular activities such as theatre and dance.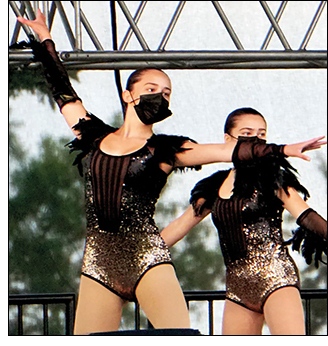 Fortunately for members of the Cumbrae School of Dance, the Orléans-based dance academy has been able to keep a scaled-down dance program going throughout most of the pandemic.
The highlight at any dance school is the end-of-year recital which is traditionally held just before the summer break. The year-end recitals give the young dancers a chance to demonstrate what they have learned to their parents and other family members.
Unfortunately, due to the pandemic, a number of dance schools had to cancel their year-end recitals last year.
Cumbrae School of Dance owner and dance instructor Amber Harvie was determined not to cancel the school's recitals again this year, however, with indoor venues still closed she had to find an alternative – but where? Dance recitals traditionally need a stage and a sound system.
Enter the Wesley Clover Parks Drive-in Experience in the west end. The Wesley Clover Parks Drive-In Experience started showing drive-in movies last summer as a way for families to get go out and share a drive-in movie experience together.
Besides the movie screenings, the drive-in also rents its stage to other organizations, which is exactly what Harvie was looking for. It allowed for the school's dancers to meet and perform in a safe environment, utilizing the necessary COVID pandemic protocols, while their family members could enjoy the experience from the comfort of their cars.
In total, Cumbrae held six recitals over three days with a limit of 50 performers per recital. The dancers had to respect the proper social distancing rules and they had to wear a face mask at all times. (Exceptions were made for pictures which were taken from a minimum of two metres away.)
In order to prepare for the group numbers, the dancers practiced the routine on their own at home. They were able to gather for a short 20-minute rehearsal in the parking lot of the Cumbrae Dance School on St. Joseph Blvd., two weeks before the recital, and again on site just before going on stage.
"It was definitely very different to organize, but totally worth it," says Harvie, who couldn't have done it without the support of dozens of volunteers and the folks at the Wesley Clover Parks Drive-In.
"All the parents were very appreciative that we managed to pull it off. It was the first time many of these kids got to dance with their friends, or even see them in almost a year or more."
A number of the older dancers actually stayed on with Cumbrae for the past year just so they could experience their final recital.
"Definitely for the kids who graduated last year and came back for another year of dance, I wasn't prepared for them to not have the recital experience," says Harvie.