The Shenkman Arts Centre will be welcoming several new productions as well a number of new art exhibits over the coming weeks.
On Wednesday, Sept. 21 the Arts Centre will host another in its Matinée Café series with a performance by Colores Andinos – Latin American Music. This will be a lively and authentic performance featuring more than 20 instruments, including bamboo flutes, string and percussion instruments from modern and traditional Latin American heritage.
From Mexico to Argentina, evoking regions such as the Andes, Central America, and the Caribbean islands, Colores Andinos blends traditional and contemporary rhy-thms and songs, offering a genuine and wide panorama of the past and present of Latin American culture.
"Isn't He Lovely", a tribute to Stevie Wonder featuring Canadian entertainer Tony Nolasco will take to the Arts Centre stage on Saturday Oct. 15 with nine of Canada's finest world class musicians and singers.
On Oct. 21 the Arts Centre will host the No Borders Arts Festival – an exciting annual event featuring artists, musicians, poets and performances.
Each year the NBAF brings together people from all communities. This year will bring two collaborative community groups together, the No Borders Community Voices who will perform a series of songs composed by indigneous composer, Beverley Mckiver, and the Toronto Jumblies Performance troupe, who will share film and lead panel discussion groups. No Borders is inviting local artists and musicians to join in the festivities and share their experiences.
On Friday, Oct. 28 the Northern Happiness Tour will make a stop at the Shenkman Arts Centre featuring performances by the Pursuit of Happiness and the Northern Pikes, two of Canada's favourite bands.
"Rumours: The Ultimate Fleetwood Mac Tribute Show" will take over the Harold Shenkman Hall Stage on Tuesday, Nov. 8.
The following evening, on Wednesday, Nov. 9 the Arts Centre will be the site of a blues celebraton on as two of the leading females blues musicians in North American take the stage in Miss Emily and Jenie Thai.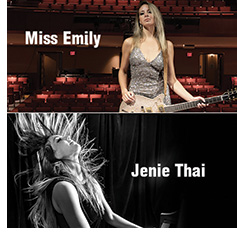 Miss Emily was a triple Maple Blues award recipient in 2020 taking home top prize for Female Vocalist of the Year, New Artist of the Year and Sapphire Blues Video of the Year.
Her most recent album "Defined by Love" is described as "a 12-song meditation on deception, pain, resilience and finding strength among the ruins of heartbreak."
Jenie Thai is a triple Maple Blues Awards nominee who has been entertaining blues fans for more than a decade.
For more information and to purchase tickets visit shenkmanarts.ca.