Cannabis users in Orléans, finally have a place to buy their product right in their own backyard. The Oz Store opened for business on June 30 right across from the Farm Boy location on St. Joseph Blvd.
Besides several different varieties of flower bud, the store also sells cannabis edibles, oils, hash, vaping cartridges, THC-infused citrus water and pre-rolled cannabis cigarettes.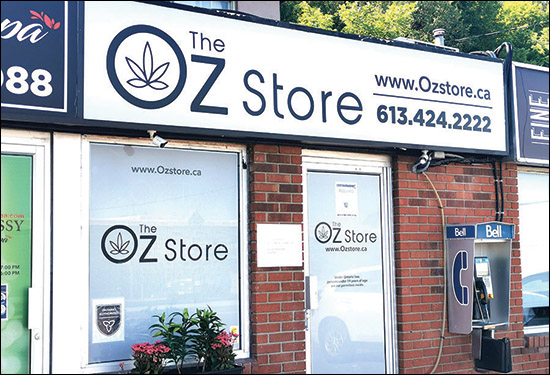 The Oz Store, located at 3022 St. Joseph Blvd., is the first legal cannabis store in Orléans. STAFF PHOTO
While smoking cannabis may not be everybody's cup of tea, it is estimated there are thousands of recreational pot users in Orléans who up until now have either purchased their favourite bud online or had to go to one of several cannabis stores downtown.
The store manager, Kolby Seifried, says the feedback they have received since opening on June 30 has been nothing but positive.
"Everyone is pretty happy we're open and they finally have a place to go in the east end," says Seifried.
Like every other privately operated canna-bis store in the province, The Oz Store gets its product through the Ontario Cannabis Store which is operated by the Ontario Cannabis Retail Corporation (OCRC).
The OCRC is the regulatory body that oversees all cannabis sales in Ontario including the prices.
A sign on the door at The Oz Store warns that anyone who enters must be over the age of 19. In order to get in you must first ring the door bell. A "budtender" then comes to the door to let you in.
Once inside you are immediately struck by how bright and welcoming the place is. The next thing that strikes you is how knowledgeable the staff is, which is the biggest difference between purchasing cannabis online versus in a store.
Seifried sees the store as having a dual role – selling cannabis products and educating cannabis users, especially those people who are new to the market and don't have a lot of knowledge about the different varieties of cannabis that are available.
You can browse The Oz Store's complete product line on their website at ozstore.ca. Each item is listed with both the THC and CBD content. While THC is the chemical component of cannabis that gets you high, CBD does not. Both components, however, have been scientifically been proven to have certain medical benefits.
CBD has been proven to benefit people experiencing anxiety, migraine headaches, depression and chronic pain, while THC has been proven to benefit people experiencing all of the above as well as glaucoma, insomnia and muscle spasms.
Visitors to the Oz Store website can also pre-order products for pick up and they can find valuable information on their cannabis blog.
The Oz Store is located at 3022 St. Joseph Blvd. next to Chili Thai Take-Out. You can reach them by phone at 613-424-2222 or by e-mailing ozstore420@gmail.com.
(This story was made possible thanks to the generous support of our local business partners.)