The Gloucester Rangers Major Peewee AA team are Bell Capital Cup champions after beating the Ottawa Valley Silver Seven in the tournament final on Dec. 30.
The Rangers played seven games over two days to win the Cup, scoring 36 goals along the way while giving up just eight. The streak included four shutouts.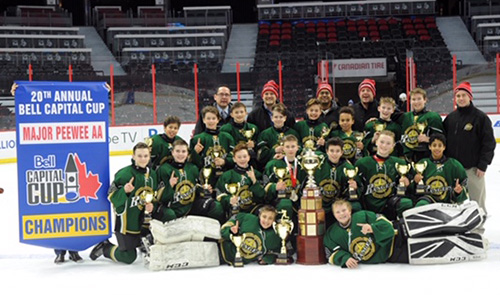 Their only loss came against the South Park Panthers in the round robin portion of the tournament.
They started things off with an impressive 11-0 win over the Voisins de Papineau on Friday, Dec. 28. Later the same day they downed the St. Lawrence Steel with an equally impressive 7-0 victory. The next morning they beat the Sudbury Wolves by a 6-0 score. That's 23 goals for and no goals against in three game.
The Rangers appeared to be firing on all cylinders when they ran into an equally talented South Hills Panthers team from Bethel Park, Pennsylvania. The result was a 4-1 loss.
In a display of the type resilience they've shown all season long, the Rangers managed to bounce back to beat the Flamborough Sabres 5-0 in the quarterfinals which set up a rematch with the Panthers in the semis.
The second game between the two combatants turned out to be a hard fought battle. With a trip to the Canadian Tire Centre on the line, the Rangers found themselves trailing the Panthers 3-2 four minutes into the third period.
After tying the game on a power play goal by Deklyn Campbell, the Rangers took advantage of another man advantage opportunity late in the game to score the go ahead goal. The young man responsible for the eventual game winner was Benjamin Cormier.
Their opponents in the final was a familiar foe. The Rangers have played the Silver Seven three times during the first half of the Hockey Eastern Ontario (HEO) regualr season, beating them twice and losing once..
After a scoreless first period in the final, the Rangers managed to pot a pair of goals in the second stanza on shots from Campbell and Cormier with each setting up the other.
The Silver Seven cut the Rangers' lead in half early in the third, but they were unable to get the equalizer against a Gloucester's stubburn defence. The result was the Rangers second tournament win of the season. They won the Capital Gold Rush tournament in late September.
The team is currently tied for first place in the HEO regular season standings with the Seaway Valley Rapids, however, they have a game in hand. A win or a tie in their next game would move them into first place..
(This story was made possible thanks to the generous support of our local business partners.)