The Ottawa-Gloucester U16 girls' team has won the first youth Ontario Cup in the club's history. The Hornets downed the Milton Magic Blue 3-1 in the Cup final on Sept. 19 thanks to a three goal effort by Leah Disipio.
Disipio scored the opening goal in the 20th minute. After running on to a pass through the defence, she calmly slotted a shot past the Milton keeper.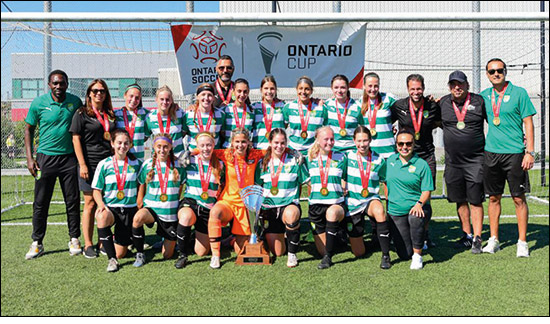 TEAM ROSTER: Leah Disipio, Paige Proulx, Mackenzie Cosh, Madison Robinson, Elysia Allen, Kassandra Da Cruz, Sara Popovic, Gabrielle Ferland, Halle Robblee, Isabella Angarita Maizie Fitzgerald, Samirah Coté, Olivia Baggley and Talia Hamilton. PHOTO SUPPLIED
The score remained 1-0 until the closing minutes of the first half when Magic Blue substitute Saige Lovell tied the game on a low shot into the corner of the net.
Disipio's second goal and eventual game winner came with five minutes left to play in the match. It also provided the highlight of the game. The play started with a Gabrielle Ferland header that Sara Popovic picked up inside Milton's half. She deftly dribbled past two defenders before dishing the ball off to Disipio.
The Hornets leading scorer faked to her left and then pulled back to her right past a defender at the edge of the penalty area and then slipped a shot with the side of her foot into the far corner.
Disipio's third goal was equally as spectacular. With the clock ticking down and Milton pressing to send the game to extra time, they left plenty of space for a ball over top that Disipio picked up and dribbled around the Magic Blue keeper and deposited into a wide open net to clinch the title.
The Hornets started the tournament with a 3-0 win over Glen Shields on July 18. They followed that win up with a 4-0 defeat of the West Lincoln Warriors on Aug. 7 to earn a berth in the final.
The win over Milton capped an unbeaten season in which the U16 Hornets finished a perfect 12-0 in league and Ontario Cup play, allowing just three goals in those 12 games while scoring 50 themselves.