Turn the ordinary into the extraordinary
Bearbrook Game Meats is one of the best kept secrets in the east end. Located on Dunning Road just south of Russell Road, Bearbrook Game Meats is the purveyor of traditional and exotic game meats to some of Ottawa's finest restaurants.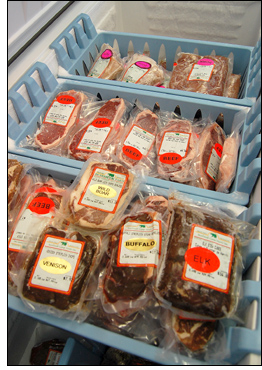 Bearbrook Game Meat offers a wide variety of game meat in several different cuts including steaks, roasts, ground meat, sausages and chops. Photo supplied

---
Their selection of sausage, burgers, roasts, meat loaves and steaks is second to none. They have all the above in venison, wild boar, buffalo, elk, ostrich and emu, as well as beef and lamb. And everything is additive free. That means no antibiotics, no hormones, no chemicals, no fillers and no MSG.
Their game meat burgers, sausages and steaks are a wonderful way to turn an ordinary BBQ into an extraordinary dining experience.
They also sell a wide selection of game birds including pheasant, quail, Cornish hen, partridge, duck, geese and grain fed chicken, and a wide variety of eggs.
One of the items the Bearbrook Game Meat Store is most famous for is their Wild-Game-To-Go takeout dinners thay you simply have to warm up in the microwave or oven. For example they have Buffalo Stew with Wild Currant Sauce, Venison Stew with Juniper Berries & Red Currant Sauce, and Emu Meat Balls with Videlia Onion Sauce.
The meals are made on site and then flash frozen to ensure they are fresh and flavourful when you serve them to your family and friends.
If you visit the Bearbrook Game Meats Store be sure to bring the kids along and visit the many buffalo, elk, deer, llamas and peacocks that roam on the property. Food pellets can be purchased in the store.
The Bearbrook Game Meat Store is located at 5396 Dunning Rd., just south of Russell Road.
To get there from Orléans take Frank Kenny Road south to Russell Road. Turn left at Russell Road and continue until you get to Dunning. Once your at Dunning Road turn right and the farm is on the righthand side.
The store is open Thursday to Sunday from 10 a.m. to 5 p.m. For more information visit www.bearbrookfarm.com or call 613-835-2227.
You can also purchase Bearbvrook Game Meat at a number of Farmer's Markets across Ottawa including the Cumberland Farmer's Market held every Saturday from 8 a.m. to 1 p.m. at the R.J. Kennedy Community Centre in Cumberland Village and the Orléans Farmer's Market held every Friday from noon to 6 p.m. across from the Orléans Client Service Centre on Centrum Blvd. For a full listing visit www.bearbrookfarm.com.