In the retail world there are very few businesses that can lay claim to being an "institution". It takes longevity, a loyal clientele and a willingness to not only serve the community, but to take an active role in ensuring and preserving the community's very well-being.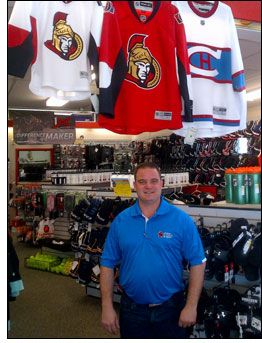 In the 47 years since first opening their doors, Lacroix Source for Sports has earned the title of being an east end institution, first under its founder and former owner Andre Lacroix, and more recently under current owner Eric Laniel.
Laniel's connection with Lacroix Source for Sports dates back to when his parents bought him his pair of skates at the age of five.
"I've bought my hockey equipment here ever since," says Laniel who took over the business from Lacroix in 2014.
"It was a challenge I really wanted to take on and with the staff already in place who have been here for years and years it was a no-brainer."
When Lacroix Sports first opened its doors in 1972, it was the only sporting goods store in Orléans. Today, the retail sports equipment landscape is dominated by the big box stores.
In spite of that reality, Lacroix Source for Sports has continued to occupy a small niche in the sporting goods landscape sticking to its founding philosophy of providing area sports enthusiasts with quality sports equipment and apparel at competitive prices. It's a philosophy that has continued under Laniel who shares Lacroix's commitment to customer service.
"We've got red carpet service here. The sales people are outstanding. Because of that people keep coming back again and again. We've been around for so long and have made so many customers happy that we're now seeing a third generation come into the store," says Laniel who is a Garneau high school grad.
Since 1995, Lacroix Sports has been a part of the Source for Sports network of independent sporting goods stores. With over 200 stores across Canada, Source for Sports forms a national buying group which is able to purchase inventory and offer it to their customers at competitve prices.
While Lacroix Source for Sports specializes in hockey equipment, they also cater to sports largely ignored by the big box stores like baseball, softball, football and curling.
From the serious professional to the weekend amateur, Lacroix Source for Sports can outfit you with the very latest in sporting equipment from such manufacturers as Wilson, Adidas, CCM, Nike, Bauer, I-Tech and Easton.
They can also meet all your embroidery and silk screen needs for both athletic and work apparel.
A big part of the Lacroix Source for Sports success story is due to the store's committed and loyal sales staff. Most of whom have been with the store for 25 years and longer.
"When you add it all up, it's over 125 years of experience between four people," says Laniel.
Lacroix Source for Sports is located at 2062 St. Joseph Blvd. near the corner of Grey Nuns Dr. Store hours are from 9 a.m. to 9 p.m. Monday to Friday, 9 a.m. to 5 p.m. on Saturdays and 11 a.m. to 4 p.m. on Sundays.
To contact Lacroix Source for Sports by phone call 613-824-5196, or simply e-mail lacroixsource@rogers.com. You can also find them on the internet at http://lacroix.sourceforsports.com.