Grape Pickings by
Leslie Larkin
This week's pick: Passport Series Brunello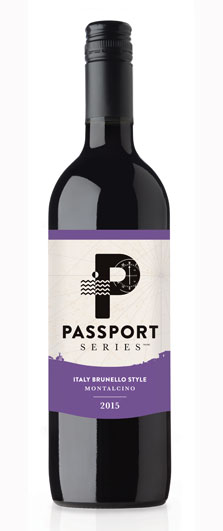 Region of origin: Montalcino, Italy
The wine: An elegant wine made from Sangiovese grapes with a deep garnet hue, full body and velvety texture. Aromas of leather, cranberry, tobacco, and rich flavours of ripe cherry with a hint of earthiness, define this classic Italian wine style. Smooth tannins and ripe fruit- driven characteristics make this well balanced with a silky finish.
The region: Located 120km south of Florence, Montalcino is one of the warmest and driest regions within Tuscany, receiving just 700mm of rain on average per year. Montalcino is a small medieval village in the Province of Siena, with the wine district centred to the northeast of the village in wooded and hilly terrain. Vineyards are planted on both the north and south facing slopes: vines on the northern slopes ripen slower producing racier and more aromatic fruit, while the increased sun exposure on the southern slopes lends more power and complexity to the fruit.
Food pairings : Enjoy with Tuscany's famous grilled steak Florentine, marinated and grilled portobello mushrooms, or a rich beef ragu over pappardelle pasta. a charcuterie platter of cured meats and a mix of hard cheeses is also a perfect match.
Available exclusively at the Orléans Town Centre Wine Kitz location on St. Joseph Blvd. near the corner of Prestone Drive. You can reserve your kit now by calling 613-841-8197 or e-mail winekitzorleans@bellnet.ca. Mention that you read about this wine in Grape Pickings and receive an additional $10 discount.
To read about other wines in the Passport Series visit http://winekitzorleans.ca/passport-series-2015/.