Grape Pickings by
Leslie Larkin
This month's picks: Cheeky Monkey Enchanté Red and Déja Vu White
Enchanté Red -- Sweetness: Dry Alcohol: 13% Body: Medium-Full
Shelf Life After Bottling: 2-3 years
Déja Vu White -- Sweetness: Dry Alcohol: 12% Body: Medium
Shelf Life After Bottling: 2-3 years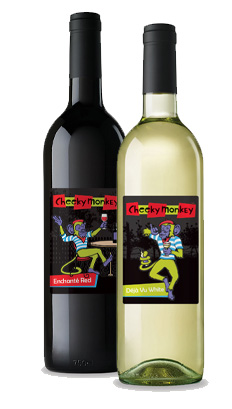 Region of origin: France
Enchanté Red is a vibrant blend with a certain je ne sais quoi that is sure to leave you charmed. Cherry and currant aromas rendezvous with notes of oak; rich avant-garde flavours of cherry, currant, and plum are accented by oak and a soft tannin finish.
Déja Vu White is a Bordeaux-style blanc may give you a little déjà vu, but our New World twist will have you saying 'ooh la la'. Lemon, lime, and subtle grapefruit aromas lead in to the true pièce de résistance – a dry, crisp palate with fresh citrus and melon flavours, rounded out with soft oak and gentle vanilla notes.
Both wines are a limited edition release available exclusively at the Orléans Town Centre Wine Kitz location on St. Joseph Blvd. near the corner of Prestone Drive.
You can pre-order your kit now by calling 613-841-8197 or e-mail winekitzorleans@rogers.com. Mention that you read about this wine in Grape Pickings and receive a $10 discount.
To read about other wines in the Passport Series visit http://winekitzorleans.ca/passport-series-2015/.