Grape Pickings by
Leslie Larkin
This month's picks: Niagara Mist Chocolate Cherry Pinot Noir
Enchanté Red -- Sweetness: Sweet Alcohol: 7% Body: Light
Shelf Life After Bottling: 1.5 years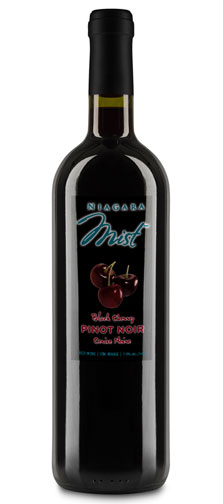 Region of origin: Niagara
Chocolate Cherry Pinot Noir is a luscious blend of juicy black cherry, rich dark chocolate, and subtle vanilla flavours; from the alluring cocoa and ripe red fruit aromas to the gentle chocolaty finish, you'll savour every second. With the signature Niagara Mist easy-drinking, fruit-forward sweetness and light body, Chocolate Cherry Pinot Noir is just decadent enough to be a treat, but still light enough for every day
Niagara Mist's Chocolate Cherry Pinot Noir is a limited edition release available exclusively at the Orléans Town Centre Wine Kitz location on St. Joseph Blvd. near the corner of Prestone Drive.
You can pre-order your kit now by calling 613-841-8197 or e-mail winekitzorleans@rogers.com. Mention that you read about this wine in Grape Pickings and receive a $10 discount.
To read about other wines in the Passport Series visit http://winekitzorleans.ca/passport-series-2015/.