Grape Pickings by
Leslie Larkin
This week's pick: Passport Series Pinot Noir
Sweetness: Dry Alcohol: 13% Body: Light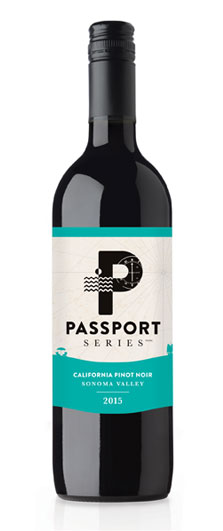 Region of origin: Sonoma Valley, California
The wine: Light bodied with soft aromas of cherry, vanilla, and earthy undertones. On the palate bold flavours of red and black cherry and strawberry are balanced by a touch of mellow spice. This fruity and bright wine is ruby in colour with a smooth, satisfying finish.
The region: Sonoma Valley is the largest wine growing region in Sonoma County. Bordered to the west by the Sonoma Mountains and the Mayacamas Mountains on the east, the valley is open from north to south, allowing cool air to flow down from the Pacific Ocean and up from the San Pablo Bay. Sonoma Valley is a diverse region with steep mountains, rolling bench lands, fertile plains, cool coastal fog and an abundance of warm California sunshine. It is known for its Pinot Noir which ripens to delicate perfection in the cooler areas close to the San Francisco Bay.
Food pairings : Light enough to pair with salmon but complex enough to pair with meats such as duck. Enjoy with pizza, any mushroom based dishes or with cheeses such as Camembert or Gruyère.
Available exclusively at the Orléans Town Centre Wine Kitz location on St. Joseph Blvd. near the corner of Prestone Drive. You can reserve your kit now by calling 613-841-8197 or e-mail winekitzorleans@bellnet.ca. Mention that you read about this wine in Grape Pickings and receive an additional $10 discount.
To read about other wines in the Passport Series visit http://winekitzorleans.ca/passport-series-2015/.