Grape Pickings by
Leslie Larkin
This month's picks: Passport Series Nero D'Avola
Sweetness: Dry Alcohol: 14% Body: Full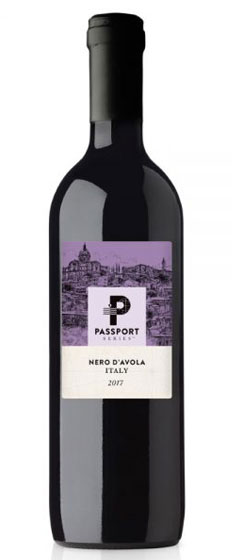 The Wine: A lesser known Italian red wine grape, Nero D'Avola has long
been a prized varietal in its native Sicily and in the last decade has been gaining favour in the rest of the world as a serious red, joining the ranks of big Cabernet Sauvignon and Shiraz. Nero D'Avola offers aromas of ripe black fruit with notes of vanilla and smoke, and abundant flavours of ripe black cherry & plum with spicy accents, velvety tannins, and a long finish.
The Region: Situated just off the 'toe' of Italy's boot, Sicily is home to a number of active volcanoes, which create rich, fertile soils ideal for agriculture. The largest of the Mediterranean islands, Sicily enjoys a typical Mediterranean climate with mild, wet winters, and hot, dry summers with consistent sunshine. This combination of mineral-rich soil and reliable weather create near perfect conditions for growing wine grapes
Food pairings: A great wine to match with rich meats. Try with beef stews, game meats, or barbecued angus burgers topped with bacon. Black bean or shitake mushroom based dishes also make for excellent matches.
The Nero D'Avola is a Passport Series wine available exclusively at the Orléans Town Centre Wine Kitz location on St. Joseph Blvd. near the corner of Prestone Drive. You can pre-order your kit now by calling 613-841-8197 or e-mail winekitzorleans@rogers.com. Mention that you read about this wine in Grape Pickings and receive a $10 discount.