Grape Pickings by
Leslie Larkin
This week's pick: Cheeky Monkey Red Zeppelin & Three Dog White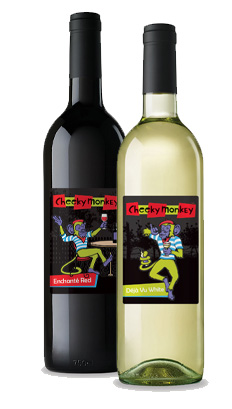 Red Zeppelin - Nebbiolo Barbera
Red Zeppelin rocks ripe red berry flavours and tart cherry tang, balancing it out with harmonious earthy floral notes, and fresh acidity. Moderate tannins back it all up like a bumpin' bassline. The juicy cherry aroma is highlighted with the subtle scent of tar and roses. It's okay. Get your lighter ou and put your arm in the air. This wine is worthy.
Three Dog White - Torrontes Chardonnay Viognier
This off dry white opens with a vibrant tropical fruit and floral bouquet, and will quickly have you grooving to the tune of lush peach and apricot flavours with hints of citrus. Lightly sweet and refreshingly acidic, the long fruity finish will have you up on your feet chanting "Encore".
The Cheeky Monkey Red Zeppelin and Three Dog White are available by order only at the Orléans Town Centre Wine Kitz location on St. Joseph Blvd. near the corner of Prestone Drive. They will arrive in August and be ready to enjoy with family and friends for the holidays.
You can reserve your kit today by calling 613-841-8197 or e-mailing winekitzorleans@bellnet.ca. Mention that you read about these wines on Grape Pickings and receive a $10 discount.