Grape Pickings by
Leslie Larkin
This week's pick: "Niagara Mist" Spiced Wine Sauvignon Blanc
Sweetness: Sweet Alcohol: 7% Body: Light
Shelf Life After Bottling: 1.5 years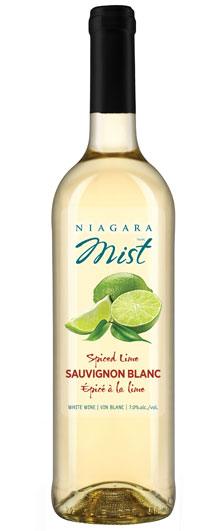 Region of origin: Nigara Region, Canada
The wine: Spiced Lime Sauvignon Blanc plays up the natural lime flavours of Sauv Blanc, brimming with refreshing citrus and tart lime flavours up front. Hints of ginger and peppery capsicum build slowly on the finish, giving a gentle kick of well-defined sultry spice for an exotic and exciting mix of sweet and spicy.
Food pairings : Excellent with grilled chicken when also using a citrus-based marinade. Also good with Mexican-inspired cuisine, or simply alone, properly chilled on a warm summer's day.
This is a limited edition release available exclusively at the Orléans Town Centre Wine Kitz location on St. Joseph Blvd. near the corner of Prestone Drive.
You can reserve your kit now by calling 613-841-8197 or e-mail winekitzorleans@bellnet.ca. Mention that you read about this wine in Grape Pickings and receive a $10 discount.
To read about other wines in the Passport Series visit http://winekitzorleans.ca/passport-series-2015/.