Grape Pickings by
Leslie Larkin
This week's pick: Cheeky Monkey Cabern-EH
Sweetness: Dry Alcohol: 13% Body: Medium Full
Shelf Life After Bottling: 2-3 years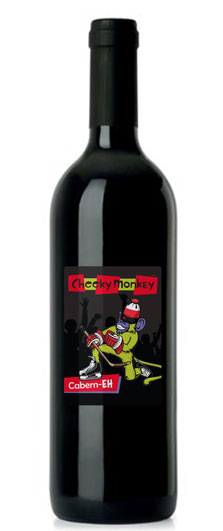 Region of origin: Okanagan, B.C.
The wine: B.C.'s Cab Sauvignon scoring with bold dark fruit aromas and flavors of black cherry, blackberry, and blackcurrant. Layered with toasty oak, assertive tannins, and a zesty finish like a flavor slap shot right to your palate, this isn't a wine for the lighthearted. Full-bodied and burly but with undeniable finesse, Wine Kitz Cheeky Monkey Cabern-EH will make you gain respect for B.C. reds.
Food pairings : Excellent with grilled steak, a quality burger, beef short ribs or any other type of red meat. Can also be paired with leg of lamb, portobello mushrooms, and cheddar, cheese, gouda or a mild blue chees.
This is a limited edition release available exclusively at the Orléans Town Centre Wine Kitz location on St. Joseph Blvd. near the corner of Prestone Drive.
You can reserve your kit now by calling 613-841-8197 or e-mail winekitzorleans@bellnet.ca. Mention that you read about this wine in Grape Pickings and receive a $10 discount.
To read about other wines in the Passport Series visit http://winekitzorleans.ca/passport-series-2015/.