Filling your recreation and fitness needs


The Ray Friel Recreation Complex is a multipurpose facility offering a variety of services and programs to meet your recreational and fitness needs.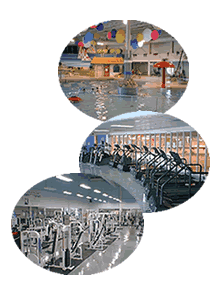 Whether it's aquatics classes, pilates and spinning courses, public skating, pre-school programs, kickboxing, weight training or a perfect place to hold a birthday party, the folks at the Ray Friel Complex are constantly striving to meet the community's needs.
The centre's knowledgeable and responsive staff pride themselves on providing a fun, friendly and dynamic atmosphere for their clients.
The wave and leisure pool provides a tropical getaway during the winter months and is fully equipped with a 25-metre lane sectioned pool, a diving tank, shallow lagoon and water play area for the kids, a whirlpool, sauna and a wave machine.
Among the programs offered are aquafitness classes, swimming lessons for all ages, advanced and speciality lifesaving courses and a diversified public swimming schedule including family, lap, adult leisure and WAVE swims.
The Ray Friel Fitness Studio contains a number of features that appeal to recreational users and serious weight training practitioners alike.
At the centre of the studio is a large weight training room with a complete array of free weights and strength training equipment from Paramount and Nautilus. The fitness studio is also equipped with a number of cardiovascular machines including nine treadmills, seven elipticals, five Concept II rowers, six Tectrix stair climbers, five upright True bikes and seven Lifefitness recumbent bikes.
Each machine is within view of six 27-inch televisions that are equipped with an FM radio system which allows clients to listen to their favourite radio station using a portable FM receiver.
Fitness memberships come in one month, three month and 12 month packages. Family memberships and individual visits are also available
The Ray Friel Recreation Complex boasts three ice surfaces, change facilities, and a large community room with a 240-person capacity and barrier free access for the physically challenged.
There is also a Pro Shop, a sports clinic, a fully licensed family restaurant and an after school programming area.
For more information on public skating hours, shiny hockey and ice rentals visit www.rayfriel.com. Besides their regular programming, the complex also offers a wide variety of summer camp programs for kids age six and older.
For complete a breakdown of the centre's childminding policy, scheduling and rates, visit www.rayfriel.com.
Last, but not least, the Ray Friel Complex offers a variety of birthday party packages and multipurpose meeting rooms for a variety of possible functions.
The Ray Friel Recreation Complex is managed by Serco Facilities Management Ltd., a global facilities management company committed to maintaining the highest standards and the ultimate in customer satisfaction.
The complex is located on Tenth Line Road between St. Joseph Blvd. and Innes Road (map). They can be reached by phone at 830-2747 or by e-mail at info@rayfriel.com.